SK-9000

Thermal Massage Bed



AUTOMATIC PROGRAM
P1


Whole back, neck, head



---

P2


Whole back, neck, head

---

P3

Buttocks and waist

---

P4

Waist

---

P5

Upper back

---

P6

Neck (head) and upper back

---
MANUAL PROGRAM
In this mode, can set the time, the operation of each part, operating up and down the roller massage as desired.
MASSAGE LOW BODY
Massage leg muscles, the whole leg
Product name




Model name




Supply Voltage and Frequency

AC 220 ~ 240V

Power consumption

237W

Frequency

50Hz

Oprerating temperature

30℃~70℃

Automatic operational mode for Main body

P1 ~ P6

Manual action oerational for Main body

P

Pperational mode for Lower body

L

Time to reach maximum temperature

40 minutes / mode

External

Dimension

Length

Mainbody:1200mm / Lowerbody:755mm

Width

600mm

Height

Mainbody:175mm / Lowerbody:140mm

Total

Width:715mm / Length:1965mm / Height:580mm

Weight

Main body

29.1 Kg

Lower body

13.3 Kg

Frame

36 Kg

Total

78.4 Kg
THERMAL MASSAGE BED SK-9000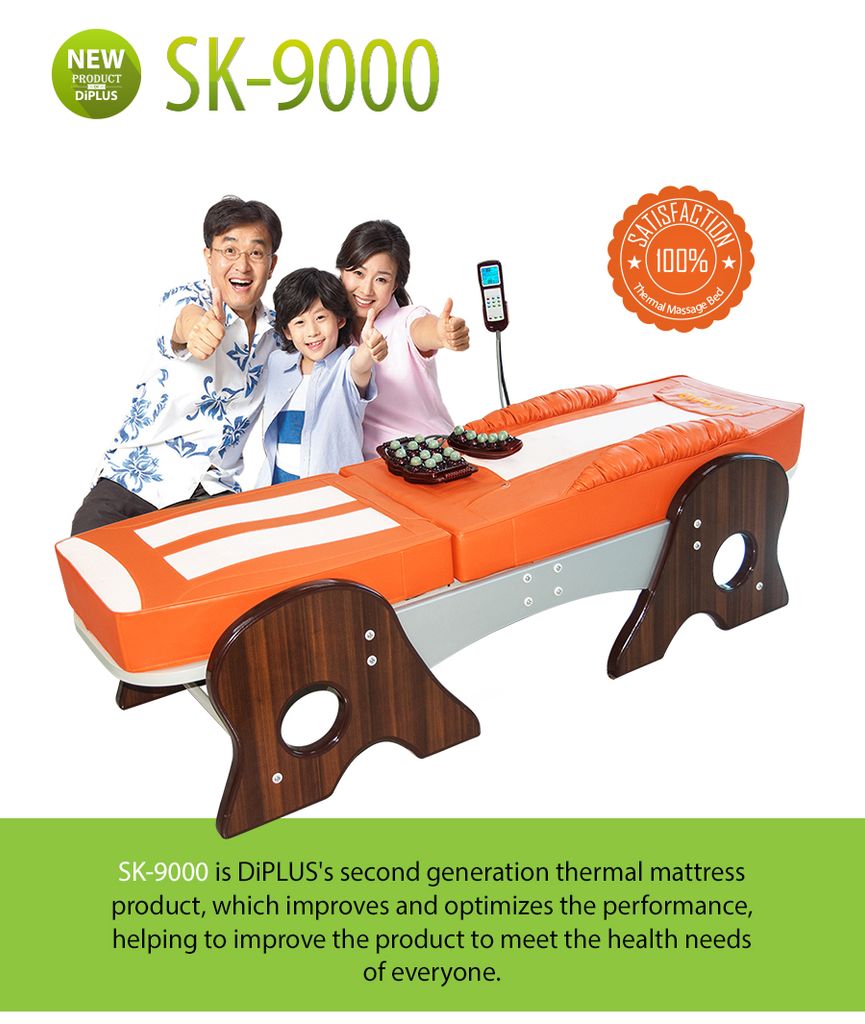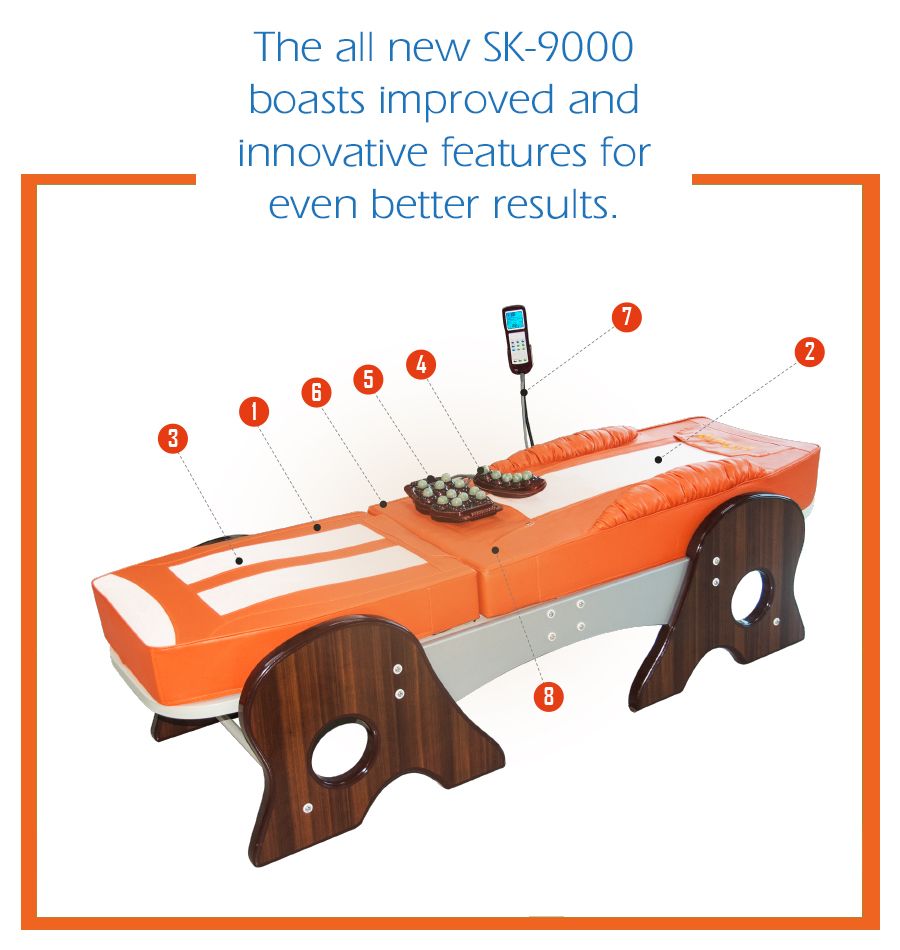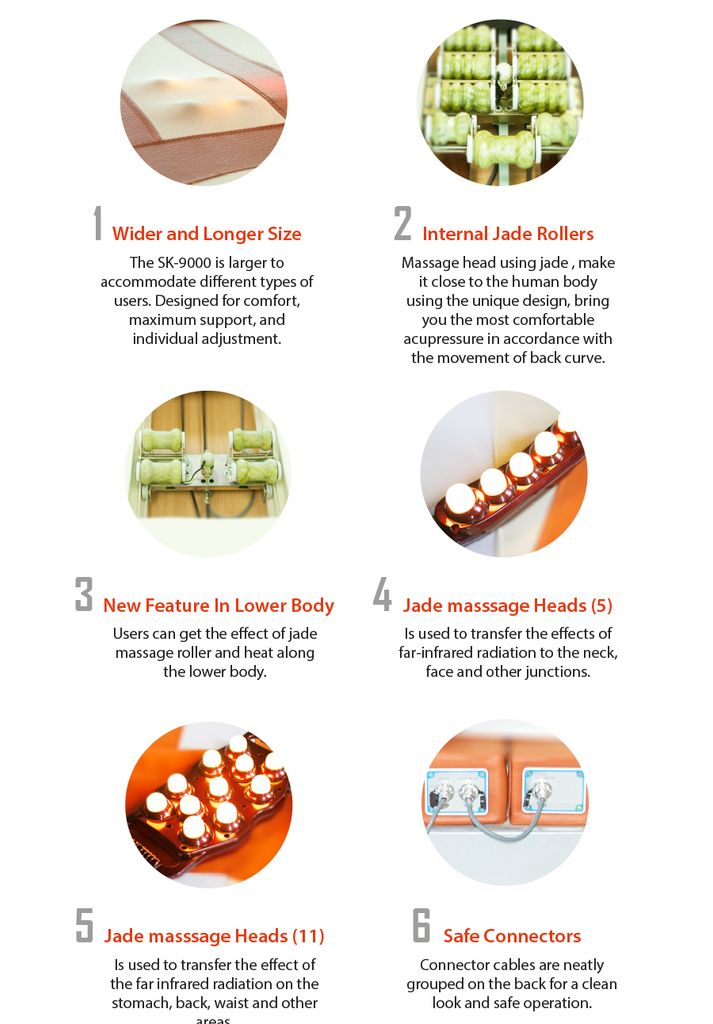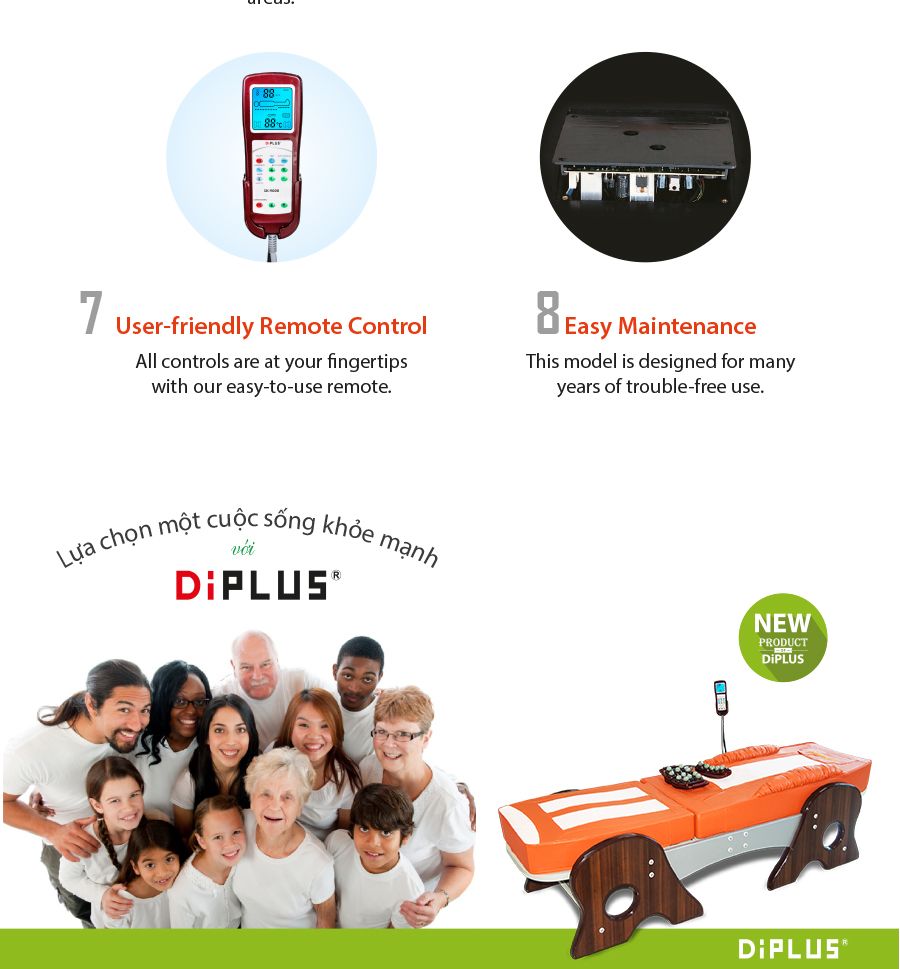 DiPLUS introduce products massage bed heat the latest with more features to help massage the better use of acupuncture, moxibustion, far infrared rays, emits negative ions bring the atmosphere fresh for the family.
MASSAGE Helps reduce stress, increase concentration, relieve pain, relax muscles, and regulate internal organs, enhance gastrointestinal motility, intestines and improve digestive function.

---

ACUPRESSURE INSPIRED Hand and finger pressure applied to specific, restoring proper pathways and flushing out toxins that have built up during the imbalance. DiPLUS uses the body own weight to achieve this same effect.




---

ACUPUNCTURE INSPIRED Diplus

uses a unique combination of helium gas bulbs and jade massage heads to create infrared rays that stimulate Acupressure points 7 centimeters deep in tissues.

---

HEAT-THERAPY(MOXIBUSTION) The use of heat to stimulate blood flow and tissue response, also encourages overall muscle relaxation, relieves pain, and releases pollutants trapped in the musculature.

---

CHIROPRACTIC INSPIRED The simple principle that the body can heal itself when its systems are properly aligned and allowed to operate without impediment, signified by the health and proper alignment of the spine as the core of the entire body.