DP-6000a

Heating mats



Massage mode
| | | |
| --- | --- | --- |
| THERMAL FUNCTION | | With multi-layer structure combined with Beakseseok stone to help emit negative ions, far-infrared ray radiant heating effect. |
Product name




Model name




Supply Voltage and Frequency

AC 220 ~ 240V

Power consumption

190W

Frequency

50Hz

Operating Temperature

30℃~70℃

Number of Beakseseok




Weight

Time to reach maximum temperature

40 minutes

Dimension

Length

1900mm

Width

800mm

Height

10mm
Heating mats DP-6000a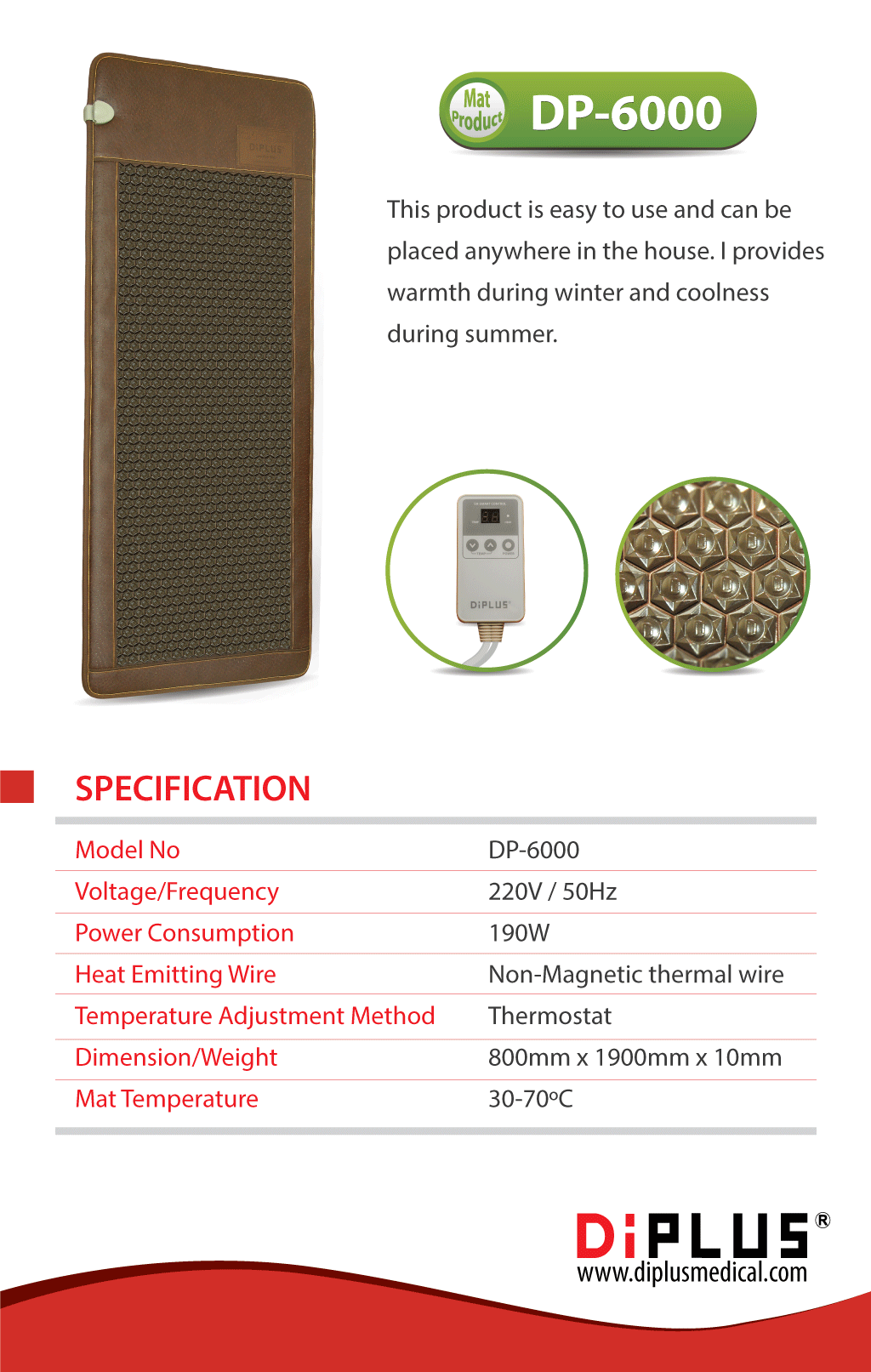 DiPLUS based on the most advanced methods for research and application in health care products.
NEW"100 YEAR OLD STONE" The Queen size Healthy Mat is comprised of 896 small flat stons formed from a special composite of six minerals (germanium,feldspar porphyry, tourmarlin, zeolite, precious sperpentine, and ceramic). These stones are not made with any coating method, rather thay are baked at 2460°F which crystallizes the "100 Year Old Stone." These small flat stones are then placed on a cushioned surface for your comfort.

---

NEGATIVE IONS The amazing news is that the Diplus "100 Year Old Stone" emits an unheard of 800~1000 negative ions per cubic cetimeter. A pro-longed exposure to this level of negative ions has several positive effects on the body. Studies show that negative ions can cleanse the blood, regenerate cells, purify the air, and control the autonomic nerves to balance the internal organ functions.

---

FAR INFRARED RAYS The Diplus Healthy Mat is patented technology also uses Far Infrared Rays, which refer to a specific type of light (heat energy) that exists beneath the visible spectrum. When the heat system in the Healthy Mat is turned on, infrared rays enter 4-5 cm into the skin. Far Infrared rays have been proven to increase blood circulation, the lymphatic system,metabolism, and boost the immune system.

---

NO HARMFUL ELECTROMAGNETIC WAVES The Diplus Healthy mat does not emit harmful electro magnetic waves that can disrupt your healthy flow of energy. These waves can cause misarriage, birth defects, leukemia, and other diseases.

---

PREVENT THE WAVE FROM GROUNDWATER Groundwater currents produce spiral energies that affect people living in buildings built just above, where the intersection of two opposing helical energies can make the health of Humans will be weakened. The DiPLUS Health Thermometer is designed to prevent invisible waves from the groundwater, providing the inherent health of the family.